Features
Responsive

Project Overview
The City of Revere, MA approached us in the fall of 2018 to redesign their aging website. Their old website was cumbersome to use, wasn't mobile-friendly, and was hard to navigate. Revere prides themselves on being at the leading edge of technology and their old website did not reflect that characteristic. They wanted a website that was modern, had a lot of different ways to display content, was mobile-friendly and was something they could be proud of.
We competed against other companies that specialize in municipal websites and won the job for a few reasons.
We have experience building clean, modern, effective websites.
Because of our website platform, BranchCMS, we were able to offer them a custom solution that didn't have limitations. With the other municipal vendors, they would have been limited by a cookie-cutter, off-the-shelf solution that wasn't easily customized.
"We are beyond pleased with Aptuitiv's work on the redesign of the City of Revere website. Now when residents, visitors, businesses or prospective home buyers visit our page, their first impression will be a modern, vibrant City, reflecting the innovative work happening in Revere today. Aptuitiv exceeded our expectations, and we are grateful for their diligent efforts and for working carefully with staff to translate our concept to a reality."
- Mayor Brian Arrigo, City of Revere
"This past year, following a competitive bidding process, The City of Revere hired Aptuitiv to redesign and relaunch the city's website. Most bidders at our preferred price point were larger firms that specialize in municipal sites. They were prepared to slot us into more of a cookie-cutter design with out-of-the-box functionality pre-built for cities and towns. Choosing a smaller, customized web designer was not necessarily the logical or easiest decision for the city. However, hiring Aptuitiv proved to be a terrific decision. Not only did they offer an unbeatable price, but the tremendous flexibility and service that Aptuitiv offered is unmatched by the specialists in municipal websites.

The team at Aptuitiv provided the City of Revere a phenomenal website, one which I consider to be one of the best small-city websites I have ever seen. With Aptuitiv's leadership, dedication, creativity, Revere now has a world-class website at a very competitive price.

Aptuitiv was attentive, responsive, and committed to putting a great site together in just a few short months. They developed new functionality, such as our city calendar and elected officials pages. They incorporated new outside apps, such as new job application forms and our trash app. They tested and tried new things, as we pushed hard to reach the quality of site we wanted to deliver to our residents and staff. At no time were we told that something could not be done. Instead, they sought to find solutions. When we presented a technical challenge they went to the drawing board to find a way. It was never too hard, too much time, too annoying to meet our high expectations. It was simply a challenge they were eager to overcome– often with a solution even better than our original plan.

After launch, Aptuitiv was eager to train our staff on how to use and update the site, and they continue to stay in touch to help ensure everything is working right for us, including minor adjustments as needed.

I look forward to the ongoing relationship the City of Revere will have with Aptuitiv as we continue to build capacity and our digital presence. I would recommend Aptuitiv to any small-to-medium size city or organization seeking a great looking and creative website.
- Reuben Kantor, Director, Office of Innovation and Data Management, City of Revere
Our Approach
After getting hired by Revere we traveled to their city hall to launch the project with a kickoff meeting. We discussed example websites they like, what they did and did not like about their current site, as well as new features for the site. A big focus was going to be adding a new calendar to the website to showcase city and community events.
A lot of content restructuring needed to be done so the next step in the project was to work on a comprehensive site map. This was done in close tandem with Revere as there were hundreds of pages to review and archive.
We then started the design phase and began by drafting wireframe mockups. This allowed us to focus solely on the components on the pages and get that right first before working on the actual design. We worked through multiple revisions. This step really helped us have the same expectation with the client as to how the page would be laid out.
After the wireframes were complete we began to work on the actual design of the site. We prefer to design in the browser, which means that we prototype our designs with HTML and CSS in a browser instead of in Photoshop or Sketch. This allows us to present designs to the client in the final medium that the website will be seen; the browser. This approach also allows us to show interactions to the client like hover effects and animations. Revere was able to fully see how the pages of the website would look and interact before approving the design.
One instance where the "design in the browser" approach excelled was when designing the department pages. The original idea called for horizontal tabs to hold a lot of the content. Revere wanted to consolidate multiple pages for each department into one page. However, after building out some prototypes with real content we were quickly able to see that the design broke, especially on smaller screens. A different idea was proposed to handle on-page navigation that ended up morphing into the final design. A more traditional approach of designing in Photoshop probably would have missed this issue and it wouldn't have been discovered until much later when the site was being built.
Once the designs were approved we started to build out the rest of the website with a lot of new content. Along the way we ended up expanding the design and adding new layouts for content as we came across unique content requirements.
Going Above and Beyond
Revere has a number of pages that have an email address on it for people to contact the city departments. However, to help prevent spam and to make it easier for people to email them, they didn't want to simply have the email address be a link. Instead, they wanted a link in place that when clicked would open up a smart form in a lightbox on the page that would get directed to a specific email address. So we build them a smart form for their department pages.
Of course, they got excited about this! They then came back to us and said: "can we do this with any email address on the page?". Our approach has always been to try and find solutions instead of saying "no", so after a bit of thought we said, "yes, we'll figure it out". Our solution was to add some functionality to BranchCMS to enable this. Being the company behind the CMS we have a slight advantage in that we can add features when we need it. We ended up adding support for creating custom buttons in the TinyMCE rich text editor. That new feature enabled us to build a custom button in the editor for them to create a special link that when opened it would show the same smart form in a popup. Because the email address gets obfuscated there is no concern about spammers scrapping the site to harvest emails.
Here it is in action.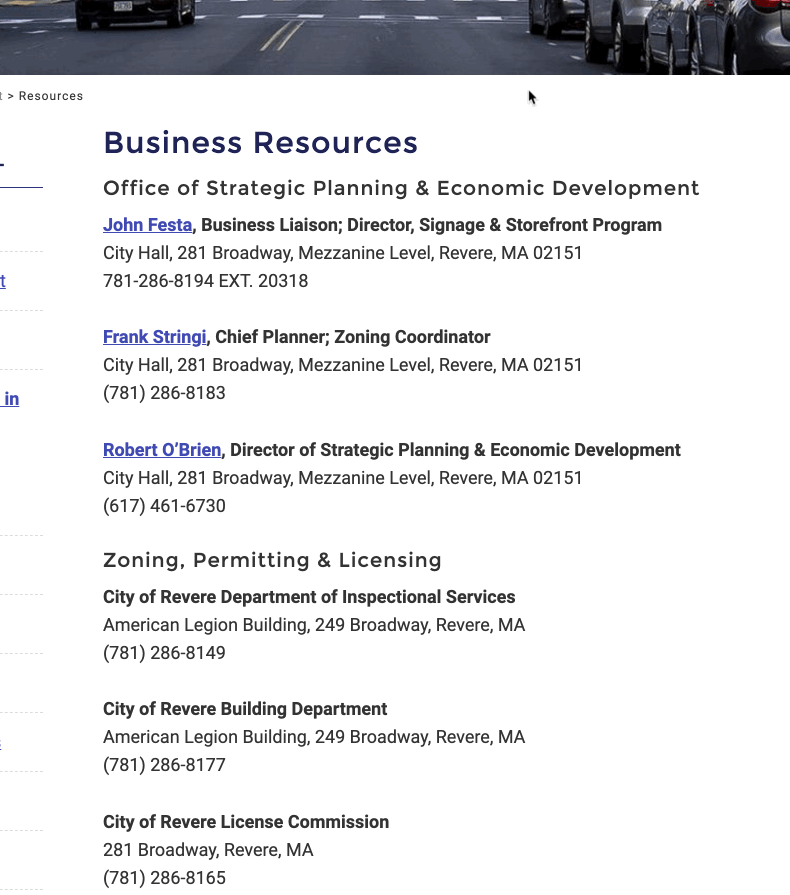 The End Result
We are really happy with how the new website came out and so is Revere. When some staff members started to say that this new website is better than the websites of larger Massachusetts cities we knew that we were successful.
Their new city calendar is a unique approach to displaying events. All of the interaction takes place on one page and new content is loaded on demand. This gives it the feeling of an app as opposed to a web page. Because of the way that we built it they are able to embed the calendar into other pages and filter the events to match the content of the page.
There are a number of other unique components that we built for their website that includes:
A dynamic schedule on the home page showing the trash, recycling, school, and city office schedule. The information is dynamically generated by logic and data that they can easily update. All of this was done with existing BranchCMS functionality.
An interactive map showing all city building locations.
Multiple navigation menu styles to meet the unique needs of each menu's content.
The feedback from Revere and town members after the launch has been really positive. The city now has a solid, attractive, and feature-rich platform that they can continue to build upon to provide a useful resource to the city residents and businesses.
Other projects in our portfolio